Missed Branding and Business Growth Opportunities: Health Clubs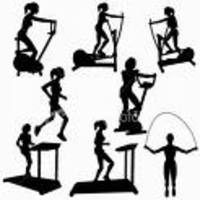 I just sent a suggestion into my preferred Athletic Club here in Des Moines, Aspen Athletic Club, because they have a link soliciting such things on their site. I began thinking a bit more about the subject and developed a list of things health clubs might want to consider. Ironically, I found a piece this AM called Bonding at the Bench Press that discusses the social aspects of working out that are being embraced by some clubs.
Cultivate a "Dream Team" of client liaisons. I've watched no less than 50 "potential sales" (prospects being walked through the gym) go right on by while the sales person simply points out features. "We have a pool, and floaty things, and ........." I've actually wanted to speak up and say, "Hi there sir, I'm really enjoying my triathlon training here and Chad is the best, Chad meet _________". But I don't. They just don't encourage that kind of interaction. I think the sales person would whisk the client away. Build a team of people slowly that are social dynamos and willing to reach out. Provide them some form of incentive. I know for sure that this behavior would affect my decision about where to plunk down my monthly recurring monies.
Encourage social networking and team work. Most people find workout buddies by accident or through repetition and realization that "Jane or Jim are always here and on the machine I want at 5:30PM". Create message boards or use social networking sites to build buddy lists, etc. If this is all crazy tech talk for the clubs, call me. Foster the relationships between folks and they'll be more likely to stay, i.e. boost recurring revenue.
Find long term events, 3 or more months away, and build teams to compete in them. Going to the gym today because I want to look better or lose weight doesn't cut it sometimes. Once I found a class designed to take me right up to the HyVee Triathlon in June 2008, I was hooked. The long term goal gave me something to focus and a group to focus with.
Try handing people a bottle of water with a logo once and a while. Little stuff can go a long way to keeping someone happy, and your logo will may be on that bottle that gets refilled 100 times and placed on the desk at work. "Oh, I see you work out at Aspen".
The moral of the story here is that health club competition will only increase as more of society understands that obesity is bad, most diabetes and heart disease is preventable, and that dying young today should mean in your 70's. Do something to differentiate.