The Bobs to Peter Gibbons..."What do....you do?"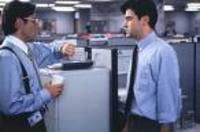 Office Space is an all time favorite movie of mine. Ummmmmkay. It speaks volumes about life (or slow death) in the corporate cube. An article in the WSJ today discusses the challenges of explaining to your kids what you do...in our "sit, type, and talk" world. The article is packed with great examples of kid's interpretations of what their parents do.
Because of my work with heavy equipment manufacturers, at least I get to say that, "Daddy is going to talk to guys that make tractors about how their big trucks move them around the whole United States". That seems to help understand what waters the money tree.
Priceless quotes:
We shouldn't feel bad. Chelsea Clinton reportedly used to describe her father, the former Commander in Chief this way: "He gives speeches, drinks coffee, and talks on the telephone." Yo-Yo Ma's son thought his father worked at the airport because the world-renowned cellist was always rushing to one.

Gary Grote's six-year-old daughter has figured out the skills required for a bank vice president of corporate lending: typing, talking and going to lunch a lot.