Police Logs From New Philadelphia Ohio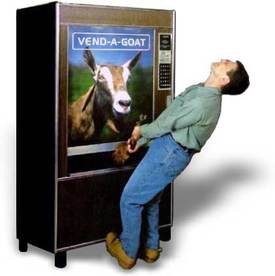 My mom sends me these and they never cease to amaze me. This is what gets reported in the police logs of a relatively small town (not rural mind you) in the Midwest. I keep telling her to send them Leno or Letterman.
Officers contacted the owner of a goat that was reported being loud in the front yard of a Crider Ave. NE residence. The owner said someone else was picking it up later Tuesday.
(Hey...even goats need date nights)
A Union Ave NW, woman reported that she is missing: six bath towels, dish soap, a bottle of disinfectant, a sun tea jar and Vaseline from her residence and she believed her ex-husband had taken the items while she was away.

(Ahhh, nothing like an itemized list that really says, "Hey...I've got some very distinct issues going on here." I'll let you fill in those blanks :)