Sunrise in Hot'Lanta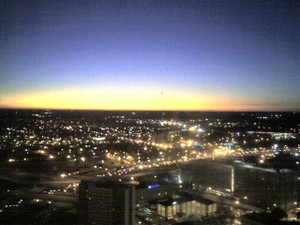 It's amazing how powerful face to face human contact is in the business relationship. All of the emails and webinars in the world don't allow reconnection with your fellow man the way a social visit does. Last night, I spent a couple hours reconnecting with old friends and clients while getting that "unfiltered communication" that comes when folks enjoy a few cocktails and tell you how they really feel.
As I look out the window this morning high above the earth (I took this photo 15 minutes ago), I can't help but dream of squeezing my loved ones and eating real food, making coffee at home, and chatting with the neighbors. It's hard to imagine, but Spring is right around the corner. Hold on...because soon we'll be cutting the grass a couple times a week and visiting Lowe's each weekend. See how fast Winter races by...when you're running the race of life?